Are you entitled to money for your damaged Cast Iron plumbing?
Amloss Claims & Arbitration specializes in recovering money for homeowners with damaged Cast Iron Pipe claims. Whether you are interested in a free on-site claim evaluation, an initial filing of your claim, or appealing a denied or underpaid claim, Amloss is here to represent your best interests.
If You've Received A NOTICE in The Mail, & You Wish To File A Claim, Reopen an existing claim, or appeal a denied claim, Please Click The Blue Button Below 
Have a question? Fill out the form below & let us call you back!
Who is Amloss Claim & Arbitration?
Amloss Claims & Arbitration is South Florida's leading Public Insurance Adjusting firm. For over a decade we have represented more than 5000 home and business owners, recovering millions of dollars for our clients above and beyond what their insurance companies offered. Our adjusters work exclusively for the policy holder, never the insurance company.  Our mission is to ensure that you receive a fair & final settlement from your insurance company. We specialize in re-opening underpaid and denied claims. Let our experience and expertise level the playing field for you.
No Recovery/No Fee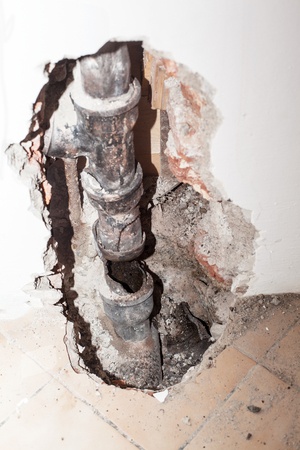 Cast Iron Pipe Claim If your South Florida home was built before 1975, then you most likely have a cast iron pipe system installed. Cast iron pipes tend to deteriorate & could potentially cost you thousands of dollars in home repairs.
With your outdated plumbing system, your household could experience issues such as:
Foul smells from sewer gases
Water-stained floor tiles (grout)
Loose or broken floor tiles
Back-ups into the house
How We Help Many insurance companies deny Cast Iron Plumbing claims by citing the ``Wear and Tear`` exclusion of your policy. However, these denial are the insurance company's interpretation and not necessarily accurate. Over the past 12 years, we have learned that through proper documentation, policy knowledge and hard work, we can get your covered loss paid.
We fight on your behalf & strive to obtain a fair settlement for your property damage.  We don't get paid unless we recover money for you!
No Settlement, No Fee Agreement
We Fight For You & Not The Insurance Company
Most Claims Settled in As Little as 90 days
Frequently Asked Questions
How Long Will My Claim Take?
Many cast iron plumbing claims are settled in as little as 90 days. However, each claim is unique, so settlement time can vary. If your claim is denied, the settlement period is usually longer.
What if i'm not sure if my home has a cast iron piping system? 
Most homes built before 1975 have a cast iron drain lines. If you are not sure, give us a call & we will schedule a free claim evaluation.
Will my insurance company penalize me ?
No. It is the duty of your insurance company to pay for any covered peril under your policy.
How Much Is Your Fee?
We are paid a small percentage from the final settlement. The percentage is based on different factors including the complexity of the claim and the likelihood of success. If we are not successful in recovering money for you than there are not fee or costs.
What if required from me?
A signature on our letter of representation & a copy of your insurance policy. Depending on the case, we may require more documents. Additionally, you will need to comply with all conditions contained in your insurance policy.
Wait, i have more questions!
No problem! Contact us today, or let us give you a call back! Consultation is absolutely FREE!
It's time to get what you're owed! Contact us today & lets discuss your settlement!